On Tuesday March 20th, the Virginia Department of Transportation (VDOT) will host a "Pardon Our Dust" Community Meeting regarding the new Washington Blvd bridge over Columbia Pike. The meeting will be at the Carver Community Center at 1415 South Queen Street from 7:00pm to 8:30pm. The agenda includes an overview of the status of the project, the upcoming construction and the plan to maintain traffic flow during construction. For those who can't make the meeting or would like an overview beforehand, here is what we know so far about the project:
The existing bridge that carries Washington Blvd over Columbia Pike was built in the 1940s as part of the Pentagon Roadway Network. It is a thick, solid structure that suffers from deteriorating concrete, corrosion, and heavy chloride contamination. The bridge was rated as "poor" in recent structural inspections, meaning that the superficial concrete is in poor condition, but is still sufficiently capable of carrying traffic without further restriction or risk to the public. In addition to this, the interchange around the bridge does not provide adequate operations for cars, cyclists or pedestrians.
Below is a modified version of
VDOT's interchange overview drawing
. I have tried to remove a lot of the distracting information from it so it is easier to focus on what is new. You can click on the image below for a larger version.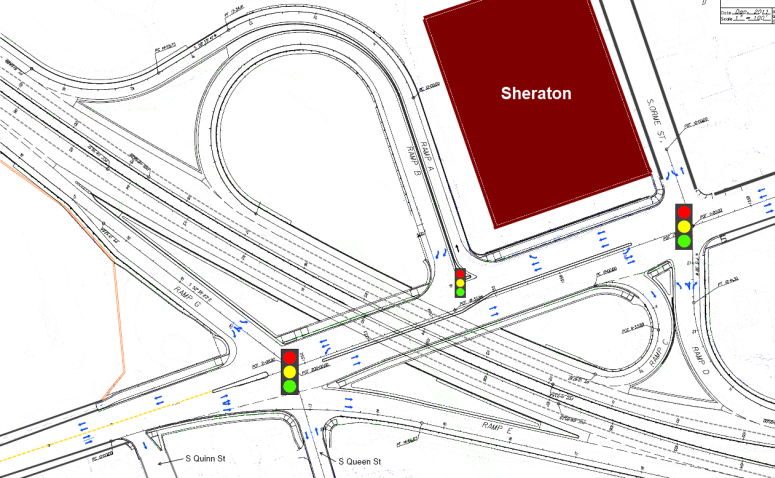 Changes to Washington Blvd
Washington Blvd going over the bridge will receive several improvements:
An added acceleration/deceleration lane in the westbound/northbound direction easing the entrance of vehicles from eastbound Columbia Pike (Ramp C) and easing the exit of vehicles onto westbound Columbia Pike (Ramp B)
Shoulders on each side of Washington Blvd which should help maintain traffic flow in the event of vehicular collisions or breakdowns.
Changes to Columbia Pike
Columbia Pike in the area around the interchange will experience several positive changes:
A 10' Shared Use path on the north side of the Pike.
A 7' Sidewalk on the south side of the Pike
A dedicated left turn lane for those attempting to turn onto South Queen Street from westbound Columbia Pike
Increased vertical clearance to accommodate the Columbia Pike Streetcar
Increased natural light under the bridge due to a physical separation between the westbound and eastbound lanes of Washington Blvd
Aesthetic Improvements
VDOT worked with a citizen group to develop aesthetic treatments for the bridge. They are as follows:

Pylons in each corner of the bridge to establish a greater presence and differentiate this signature bridge in Arlington.
Haunched Steel fascia girders with a two-tone paint scheme to mimic the arch of the existing structure.
A relief pattern incorporated into the vertical outer surfaces of the bridge parapet to create shadows and visual interest.
A concrete block pattern applied to the retaining and abutment walls similar to that of Pentagon architecture.
Recessed, arched panels on the abutment walls, larger than but similar in shape to medallions on the pylons.
Medallions will display images reflecting the historical significance of the Freedmen's Village, for which the bridge will be named (The Freedmen's Village Bridge)
Color and anti-graffiti application to concrete surfaces
Interchange Modifications
The biggest changes from the bridge project relate to the interchange and how cars will navigate the intersection:

As mentioned above, there will be a dedicated left turn lane for those turning onto Queen St from westbound Columbia Pike. This intersection will also be signalized and making this left followed by an immediate left onto Ramp E will be the only way to get onto eastbound/southbound Washington Blvd from westbound Columbia Pike as the old right exit ramp for that movement is being eliminated
The exit ramp from eastbound/southbound Washington Blvd (Ramp G) is being realigned to meet up with South Queen Street rather than South Quinn Street - the existing light at Quinn will instead be at Queen. The end of the ramp will be reconfigured - currently it is combined right turn/straight lane and a dedicated left turn lane. The new ramp will have a dedicated right turn lane, a straight/left turn lane and a dedicated left turn lane.
The ramp from westbound/northbound Washington Blvd to eastbound Columbia Pike will be realigned to meet up with South Orme St and will be signalized. Instead of being forced to turn right, exiting cars will be allowed to turn right, go straight or turn left onto westbound Columbia Pike. This means there will be two exits from westbound/northbound Washington Blvd that will allow you onto westbound Columbia Pike.
The main exit from westbound/northbound Washington Blvd to westbound Columbia Pike (Ramp B) will be widened to two lanes (both right-turn only) and signalized.
The eastbound lanes of Columbia Pike will continue to shift at morning rush hour (from a straight only + straight or right turn lane to a straight or right turn + right turn only lane) as they currently do, but the signage that indicates that shift will be upgraded to electronic signs.
Other Changes
Few people realize that a stream (Long Branch) actually runs UNDER this intersection through a concrete culvert. That culvert will be upgraded as part of this project to reduce downstream erosion.

A noise barrier will be erected along the west side of the project (abutting Westhampton Mews). The barrier will be 804' long and 12' to 20' high providing between 5 and 13 decibels of noise reduction.


Remaining Questions
According to the project website there will be certain "movement restrictions" on the interchange at South Quinn Street, but I haven't yet heard what those might be; based on the drawing I suspect that you will no longer be able to turn onto Columbia Pike (in either direction) from South Quinn Street.

It is unclear from the drawings exactly how the pedestrian crossing will be laid out - the movement of pedestrians around the ramp to I-395 is particularly bad right now - I don't hold out a ton of hope for improvement with the new interchange, but it is possible.