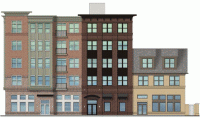 Their has been significant activity in the County permitting system relating to the long dormant Columbia Place project, including new building permit applications and approval progress on others. One of the first projects approved under the Columbia Pike Form Based Code back in 2009, Columbia Place ran afoul of the financial crisis and did not begin construction. There is no word on when construction might begin, but the activity certainly bodes well for movement on the project.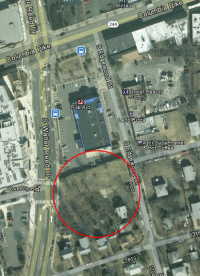 The project consists of 2,960 square feet of retail, 14 residential condo units and 8 townhouses on the empty parcel of land behind the Columbia Pike Rite Aid. The project will begin the construction of the missing segment of 11th St between Walter Reed Drive and Edgewood Street; at the completion of this project, 11th St will be one way eastbound. When and if the Rite Aid building redevelops under the Form Based Code, that project will provide additional land to finish the street resulting in a final 2-way cross section with parking on both side. The building heights vary from 5 stories at the corner of Walter Reed and 11th St down to 3.5 stories as the project approaches the surrounding neighborhood.
As with most Form Based Code projects, Columbia Place will result in significant streetscape improvements including 13ft sidewalks on Walter Reed, 19ft sidewalks on Edgewood and 14ft sidewalks on the new 11th St all with street trees. Any utilities along the edge of the project will be undergrounded and on-street parking will be added on Walter Reed Drive.